ASPHostDirectory.com Data Center
Best-in-class Connectivity and Technology
We leverage best-in-class connectivity and technology to innovate industry-leading, fully automated solutions that empower enterprises with complete access, control, security, and scalability. With this insightful strategy and our peerless technical execution, we have created the truly virtual data center—and made traditional hosting and managed/unmanaged services obsolete We are proud of our high speed connection. In fact, one of our most frequent compliments from our customers is how fast their site loads... read on and you will see why. When you combine high speed connectivity and high quality equipment, you get a fast and reliable web site. We have invested in the equipment and staff so you can rest assured that your site will load fast every time. We host sites all over the world, and with our multiple backbone connections, your customers will get through to your site fast.
ASPHostDirectory.com servers are located in Amsterdam (The Netherlands) Data Center, offering complete redundancy in power, HVAC, fire suppression, network connectivity, and security. With over 53,000 sq ft of raised floor between the two facilities, ASPHostDirectory.com has an offering to fit any need. The datacenter facility sits atop multiple power grids driven by TXU electric, with PowerWare UPS battery backup power and dual diesel generators onsite. Our HVAC systems are condenser units by Data Aire to provide redundancy in cooling coupled with nine managed backbone providers You can rest assured that your websites or dedicated servers are secured, managed and monitored in a state-of-the-art facility, and as a customer you have access to our engineers and the most reliable Support team.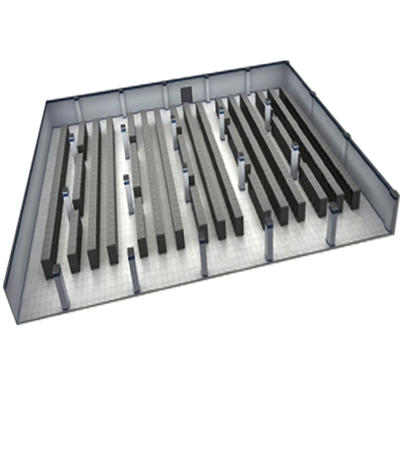 Data Center Building Construction
Our data centers are built upon a unique pod design concept, making them functionally independent with distinct and redundant resources, and fully integrated through our revolutionary network architecture. You can have direct control over your system in any data center and full access to all of our back-end services—all fully automated and on demand Each data center facility features one or more pods, each built to the same specifications with best-in-class methodologies to support up to 5,000 servers. Leveraging this standardization across all geographic locations, we optimize key data center performance variables including: space, power, network, personnel, and internal infrastructure.